Mickey Thompson STZ
The STZ is the latest all-terrain design from Mickey Thompson and introduces many new modern features. The new tread pattern design offers excellent steering response, superior grip and more traction, making it the perfect choice for work or play. 

The Baja STZ is an excellent choice as an original equipment replacement tyre and is available in light truck sizes with increased load ratings.

Strategically placed Z-shaped sipes promote long wear and increase traction on wet and greasy roads.

Textured Shoulder Lugs for improved off road traction.

Serrated Tie Bars for improved stability of the tread blocks for a better driving response.

Multi-angled & serrated tread blocks improve the self-cleaning ability to stop stones 'drilling' into the carcass and provide greater protection from stone damage.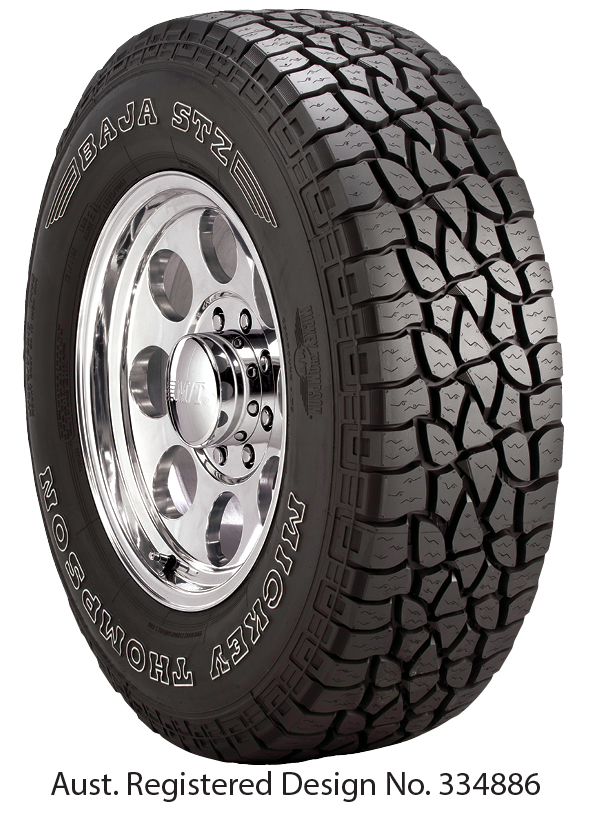 Mickey Thompson ATZP3
The ATZP3 heralds a new breed of performance in an all-terrain tyre as it combines unique design elements, technology and engineering. With that combination this tyre crosses between being an all-terrain and mud terrain tyre to give you the grip and performance when you need it while retaining remarkable on-road traction and low noise characteristics to get you down the road in comfort.

Bevelled Edges for reduced stone retention and improved cut-n-chip resistance. 

Shoulder elements create a low Optimised Pitch Sequence which reduces noise frequency, allowing for a quiet ride and even wear.

Wide Open Lateral and Offset Circumferential grooves, provide biting edges, excellent off-road traction and self-cleaning while on-road clear water quickly.

Stone Ejector Ribs to help reduce stone retention and resist stone drilling.

Enhanced Buttress and Abrasion Resistant Rib design provide a rugged appearance and additional off-road traction as well as further protection against lug tearing.

Self-Cleaning, Alternating Shoulder Scallops help to provide additional off-road traction in soft or boggy conditions.

Carefully placed ultra-thin sipes help reduce stone retention and aid in cut-n-chip resistance maintaining all season performance for the life of the tread.
Mickey Thompson MTZ
Extreme off-roaders will appreciate the great ride and handling that this mud tyre has on the highway. The Baja MTZ has Mickey Thompson's PowerPly technology with a special angled third ply to give you high performance handling, better puncture resistance and improved towing capability.

Tread block 'cutouts' aid self-cleaning in sticky situations.

Huge stepped sidebiters designed for climbing out of ruts and maximum damage protection.

Stone kickers stop rocks 'drilling' into carcass.

Internal angular tread sipes for better handling on wet and greasy roads.

Deep scalloped shoulder lugs for maximum off road traction in soft or boggy conditions improves resistance to tread chipping.

Rim protector shields your rims from damage and resist debris from the bead in tough terrain.
Mickey Thompson Claw TTC
The Baja Radial Claw TTC has all new state of the art construction making it the ultimate extreme off road performance tyre. The Claw's 23o tread pattern, the ultimate angle for cutting and self cleaning, partnered with large directional SideBiters and tough puncture resistant sidewalls means you get maximum traction and cleaning, giving you the confidence the new Claw TTC will pull you through any situation.

23° directional tread pattern for maximum traction and self-cleaning without extreme noise.

Directional scoops in the shoulder and centre tread, guide mud and loose soil into adjacent mud pockets and out of the pattern for ultimate traction and self cleaning.

Mud pockets in the tread allows for excellent deep mud and loose soil traction.

Extremely aggressive directional Sidebiters tear through loose surfaces and provide extra bite and protection.

Strategically placed and shaped siping promote long wear and improve traction on wet surfaces.

Tread and sidewall decoupling grooves allows the tread to flex and conform to irregular surfaces.