Starfire RS-R 1.0
PERFORMANCE & COMFORT
The design of the tyre provides you with excellent traction whilst cornering. The directional grooves distribute stress loads and prevent uneven wear on your tyre.
ENHANCE STEERING RESPONSE
The wide central rib provides enhanced steering responses and feedback for you as the driver.
LOW NOISE
The design of 5 different sized patterns offsets and reduce the noise giving you a quieter ride.
STABILITY
The RS-R 1.0 has been designed to give you stability on wet roads. The 4 longitudinal grooves and resist aquaplanning meaning the RS-R 1.0 can stop you faster in wet conditions. 
SILICA COMPOUND
The specially formulated rubber on the RS-R 1.0 provides uncomprimising grip in wet and dry weather conditions. 
COMFORT AND S.N.O.W STRUCTURE
An additional component is the vibration-absorption rib which reduces road noise giving you a quieter drive. The S.N.O.W (Sprial Nylon Over Wrap) structure improves durability and gives the tyre a greater contact patch giving you better stability at high speeds.
RIM PROTECTOR
A feature of the RS-R 1.0 that protects your rim from accidental kerbing damage.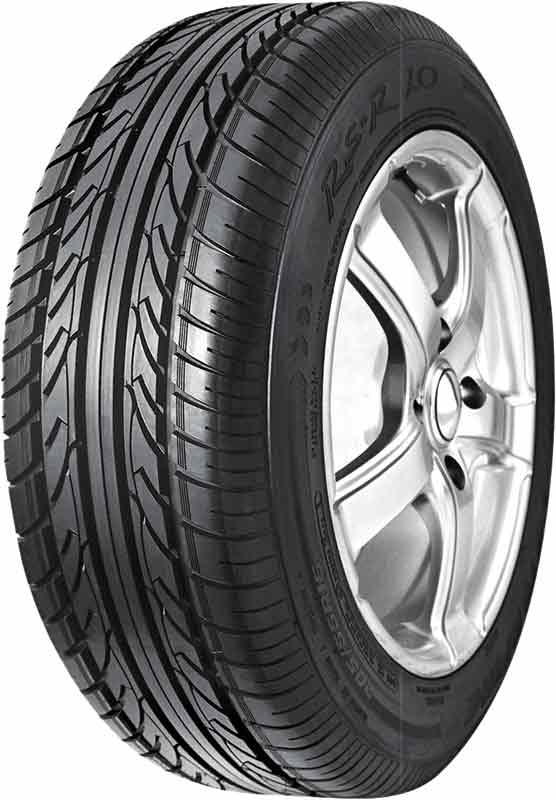 Starfire RS-C 2.0
DRAINAGE CAPABILITY
Solid shoulder blocks ensures rigidity of tyre shoulder to provide exact handling properties during steering and braking.
ENHANCED STEERING RESPONSE
The design of the RS-C 2.0 has a central circumferential rib which provides you with stability along with rapid steering response. 
NOISELESS STRUCTURE DESIGN
Minimises noise, ensures steering responsiveness and prevents uneven wear.
SAFETY
4 wide straight grooves achieve larger groove ratio providing excellent water drainage.
ENDURANCE PERFORMANCE & COMFORT
The RS-C 2.0 has excellent endurance due to the CAP/BASE compound and high performance polyester cord.  An additional component is the vibration-absorption rib which reduces road noise giving you a quieter drive.
MILEAGE
The RS-C 2.0 uses a tread compound optimised for wet grip and low rolling resistance. This greatly improves overall performance, durability and mileage.
WEARABILITY
Tread compound features high wearability characteristics; pressure distribution software is adopted to ensure even contact pressure distribution.

Starfire RS-C 88
HIGH DENSITY STEEL WIRE
Increases the strength of the carcass as well as increases the driving comfort of the tyre.  
FOUR DIFFERENT SIZED TREAD BLOCKS
Help to reduce the noise of the tyre when driving.  
TWO PLY SIDEWALLS
Help increase strength in the sidewall to prevent damage from rocks, potholes or broken roads.  
RIM PROTECTOR 
To stop accidental kerb damage.  
DEEPER TREADS
Gives you longer tyre life with tread depth at 8.3mm and a UTQG rating of 400 AA.
Starfire SF-610
SAFETY IN WET CONDITIONS
Four main channels increase rate of water evacuation while a grooved centre rib enhances wet grip for more control in wet weather.

SAFETY
A wider contact patch increases rubber-to-road ratio for improved handling, while the stitched shoulder blocks enhance cornering ability for a safer feeling in the driver's seat.

A QUIETER DRIVE
The offset pattern lugs and harmonically balanced design reduce noise for a more comfortable experience.
 
Starfire RS-V66
REINFORCED SHOULDERS/ IMPROVED PUNCTURE RESISTANCE
Straight and reinforced design on tyre shoulder. Wide bridge design at the bottom of groove. Improved shoulder wear and improved wet weather handling.
STRONGER LT CONSTRUCTION
New Light Truck carcass construction to improve mileage and handling. A tyre engineered to meet the needs of today's commercial vehicles and load capacities.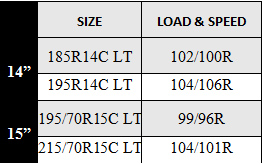 Starfire RS-L 909
The Starfire RS-L909 is a bus and light truck tyre that is suitable for running on both highway and urban road conditions. 
EXCELLENT WEAR RESISTANCE
Giving you more mileage and more traction and reliability in wet conditions. 
DESIGNED FOR
Medium Bus & Light Truck